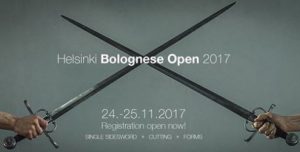 EHMS will be hosting the fifth annual open sidesword competition on the 24th and 25th of November. Helsinki Bolognese Open 2017, held at the EHMS training hall, Beckerintie 2, welcomes all fencers practicing Bolognese sidesword or other single-handed sword styles to test their skills in combat with the sword alone, as well as in cutting and in solo forms straight from the sources. Those taking part in all three parts of the event (fencing, cutting and forms) will automatically be entered in our very first triathlon!
We cap the sidesword tournament at 50 participants, which includes both men's and women's divisions. The cutting and forms competitions, and therefore also the triathlon, are capped at 16 each.
Please note that due to time restraints, the cutting competition will be held on Friday 24.11. at EHMS training hall!
Precise rules and final information will be added soon!
Registration is now open! Go to:
http://ehms.fi/helsinki-bolognese-open-2017/
All participants must be at least 18 years old.
Questions? Contact us at events@ehms.fi
(FI) Helsinki, 5th Bolognese Open 2017 for Sidesword